Oak Ridge's cultural development began in 1943 when work under the Manhattan Project led to the construction of Jackson Square, the community's first business district. The district included the famed Guest House, shops, restaurants, a theater, tennis courts, and the first high school. The high school football field, named in honor of school superintendent Alden Blankenship, immediately began to be the largest gathering place for Manhattan Project workers and their families. Most likely, no one at the time could foresee what a critical part Blankenship Field would continue to play in the cultural development of Oak Ridge. Then and now, Blankenship Field and its Wildcat Football Program provided a unified focal point for the huge sense of community pride that Oak Ridgers have.
Seventy plus years of wear are now showing, and it is time to restore and maintain this critically important Oak Ridge landmark.
| | | |
| --- | --- | --- |
| | | |
| Randy McNally | Jackie Pope | Lawrence Hahm |
Please allow us to share more of our story, and see if there is a way you can help us preserve one of Oak Ridge's greatest cultural and historic treasures.
How National Prominence Began
July 1943, Alden H. Blankenship, a graduate of Columbia University in New York City, was hand-picked and hired as superintendent of schools for the Oak Ridge location of the Manhattan Project by General Leslie Groves. Blankenship opened three schools in October 1943 – the high school, Robertsville and Elm Grove. In Adventure in Democratic Administration, Blankenship stated, "The school system was actually built and operated on the assumption that members of the teaching profession can and will do an effective job of developing a complete school program when they are given time, opportunity and encouragement." At that time, most likely he nor anyone else could foresee the National prominence that the Oak Ridge School System has attained with academic and athletic achievement. With regard to athletics, at the high school level this includes 42 State Championships in seven boys and five girls' sports and 26 State Runners-up awards. Over that period no sport has consistently excelled more than football, winning at least a State Championship every decade since the 1950's, its most recent played in 2005.
Jack Armstrong coached Oak Ridge High School's football team from 1955-1968, considered the architect of Oak Ridge football. He won four state championships in 1956, 1958, 1961, 1962 and the national championship in 1958. He grew up in Lenior City, TN and played football from 1946-1948 at the University of Tennessee for Coach Robert Neyland during his final stint as head coach, 1946-1952. Armstrong was inducted into the Oak Ridge Sports Hall of Fame in 1988. November 5, 1993, Blankenship Field stadium was named in honor of Jack Armstrong.
| | |
| --- | --- |
| | |
| Alden Blankenship | Jack Armstrong |
Winning Tradition – Oak Ridge High School All Americans
| | |
| --- | --- |
| Tom McGrew | Running back, 1950 |
| Dave Griffin | Running back, 1951, University of Tennessee |
| Jim Shelton | Tailback, 1952, Fullback-Linebacker Auburn-Memphis St. |
| Jim Grubb | Running back, 1954, University of Tennessee |
| Jackie Pope | Tailback, 1958-1960, University of Tennessee-MTSU |
| Dick Truitt | Fullback, 1961, University of Tennessee freshman year |
| Bill Wilcox | Quarterback, 1969 |
| David Webber | Quarterback, 1977, Wake Forrest |
| Shawn Summers | Tailback, 1991, University of Tennessee |
| Shaun Bohannon | Running back, 1996, University of Alabama |
| Tee Higgins | Wide Receiver, 2014, current Oak Ridge High School student |
Forever, We are Oak Ridge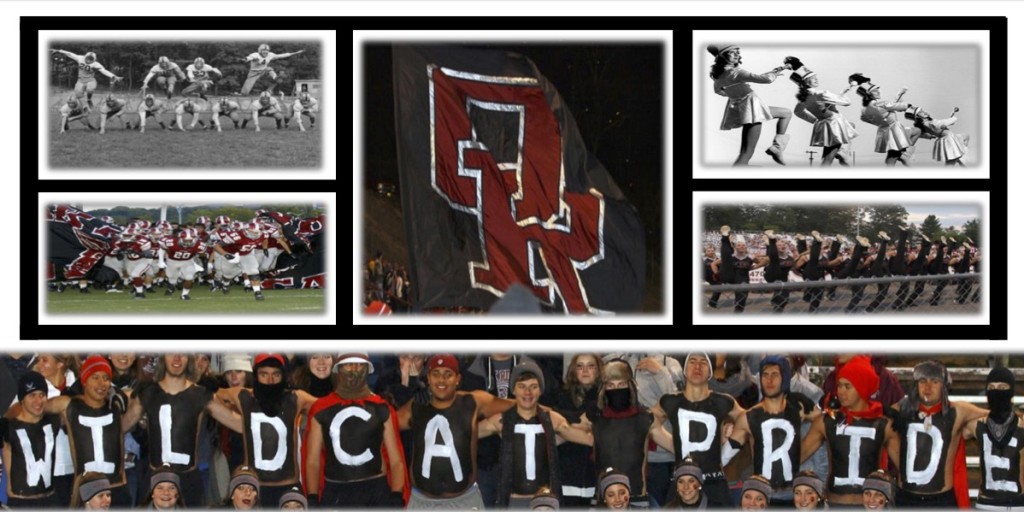 Over 25% of the ORHS student body is directly involved in the football program either as players, team managers, band members, cheerleaders, or dance team. Blankenship Field is also the home field for Jefferson and Robertsville middle schools and hosts other school events.
Original Gathering Place: Jackson Square & Blankenship Field
One of the most exciting efforts underway in Oak Ridge is the revitalization of the Jackson Square business district. The square's national historic value as the center of public activity during the Manhattan Project has long been recognized. To see what is occurring there now through public and private financing to ensure its use by future generations is just incredible. Private owners have completed a five million dollar restoration of the famed Guest House (Alexander Inn), and it is now available for private residential housing. The Oak Ridge Playhouse has just undergone a half million dollar renovation, and the city has completed upgrades to parking areas for ADA accessibility. Several new restaurants have located in the square as well as several other private businesses. The City's one million dollar renovation of the main square itself is underway with emphasis on providing a gathering place for festivals and concerts. The City has also renovated and expanded the Farmer's Market, and will begin the renovation of the main parking lot at Blankenship Field this spring. The renovation of Blankenship Field itself began last year with the Oak Ridge School's half million dollar upgrade of visitor side bleachers and landscaping. The completion of that project will provide a needed multi-use upgrade to an already popular location.
Stories from Wildcat Alumni
Jack Armstrong was hired as the head football coach at ORHS in 1995 at the tender age of 30 years old. Within two years, he and his charges won their first state football championship. Our dad lived, breathed, and dreamed ORHS football – unintentionally carving X's and O's into our dining room table upon waking in the wee hours with a new formation or strategy that he would fervently record on paper for the next day's practice. He built a powerhouse based on what he believed to be the basics of a winner: pride, discipline, self-respect, and dependability as a team member. However, winning was not the "end all" to him; as it seemed, he almost preferred the lessons he could teach them after a loss over the glory of a win – focusing on teamwork as the primary goal.
Oak Ridge's history and the legacy of its Wildcat football teams are inseparable. They both are very, very special.
Being a Wildcat meant more than just playing a sport. It instilled in each of us that we should never give up on anything we believe in – faith, trust, character, pride, and most importantly – honor and respect. Being a Wildcat helped me grow into the man I am today, and I could not be more grateful. The memories and relationships will never be forgotten by anyone who has ever worn that cardinal and gray uniform. Our student athletes deserve the best because being a Wildcat means striving to become the best. Oak Ridge High School is not a second tier program, and our facilities should not be either.